✨ GOLDEN TICKETS ARE BACK ✨
Have you got your Golden ticket? Spend £25 in Ffolkes' resteraunt between November & December, and you could bag yourself anything from an overnight stay to a brunch date for two!
Full prize list
One-night stay in a Courtyard Room x50
One-night stay in a Spa Cabin x5
One-night stay in The Hayloft x5
One-night stay in The Mews x20
One-night stay in a Bunksuite x20
Free container golf for a year! x50
Container Golf for two x500
Container Golf for four x400
Bottomless Prosecco x20
Bottomless cocktails x20
One house drink from the bar x360
Cocktail for one x500
Cocktails for two x400
Kids eat free x100
One bottle of wine x100
Brunch Feast for one x300
Box of 4 pies x50
Box of 2 pies x100
Terms and Conditions
Getting a Golden Ticket
A golden ticket will be given to customers who spend £25 or more while dining from November to December 2023.
One Golden Ticket per £25 spent in the restaurant will be issued. The maximum number of Golden Tickets issued is one per person.
Overnight guests do not receive a Golden Ticket for their stay. They can receive one by dining in the restaurant, with the above terms and conditions applicable.
Prize redemption
Golden Tickets can only be redeemed at a table.
Ticket holders must spend over £10 while dining each to swap their ticket for a golden Scratchcard and redeem their prize.
Golden tickets must be redeemed from January to March 2024.
Your card must be scratched to reveal your prize to a staff member.
After scratching your ticket, you have 14 days to redeem your prize.
One Golden Ticket can be exchanged for a Prize Ticket per person per transaction.
Prizes can only be redeemed once and not exchanged for the equivalent cash value.
If appropriate, an alternative prize might be offered to the one stated.
We reserve the right to amend or withdraw this promotion at any time without notice.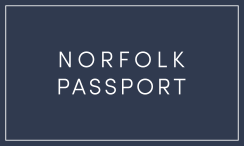 We are Norfolk Passport Partners, sign up for free online and save 10% on everything with us! For more information visit norfolkpassport.com
We use cookies to improve your experience and for personalised ads & content. By clicking 'Agree' you consent to our use of cookies.