Introducing The Hayloft
Located above Stables, step into this wonderland that has preserved the original charm of the former inn, showcasing exposed beams and vaulted ceilings that add a touch of rustic magic! This room hosts all the luxuries, including a William Holland hot tub, walk-in double drench shower, private lounge area, and rooftop terrace.
The Hayloft also features 'The Den', with four single beds and a flat-screen TV; it's the ultimate hub for family bonding or a sleepover extravaganza with besties!
Check-in 3pm
Check-out 11am
NB. *Rates work on an algorithm and change daily. The Hayloft can accommodate a maximum of six individuals: two adults and four children/adults. An additional charge of £25 per person per night will apply for every additional child/adult. Please be aware that there are no discounts available for single occupancy.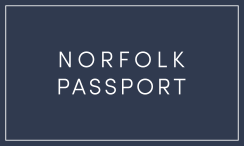 We are Norfolk Passport Partners, sign up for free online and save 10% on everything with us! For more information visit norfolkpassport.com
We use cookies to improve your experience and for personalised ads & content. By clicking 'Agree' you consent to our use of cookies.